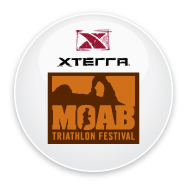 Athletes are invited to register for the first annual
Moab Triathlon
.
Moab is enormously thrilled for it.
It is a USA Triathlon (USAT) sanctioned event.
The FULL triathlon looks like this:
1500M swim in Ken's Lake, a 40K Bike on the Steelbender trail, and a two-loop 10K run to Faux Falls finishing at the day use area of Ken's Lake.
For you road preferred bike athletes:
Start again with the 1500M swim in Ken's Lake, a 40K Bike on paved Spanish Valley Drive with an out-and-back to Pack Creek Ranch, then finish with the same two-loop 10K run to Faux Falls and day use area finish

Kids Triathlon
(ages 7-10)
, oh this is GOOD:

Starts with a 25M swim, 1.5 mile bike, and a 1/2 mile run.
The older kids (ages 11-14)
Swim 200M, bike 6K, and finish with a 1 mile run.
OR
XTERRA Moab 5K trail run to Faux Falls is yet another available race.

Keep your soles training.
See you in Moab in May!

Athletes and Race Directors interested in developing competition in Moab will find a rich resource with Moab Utah Meetings and Events. It is a department of the Moab Travel Council, distributing free information and providing free consultations.